Minx's Memorial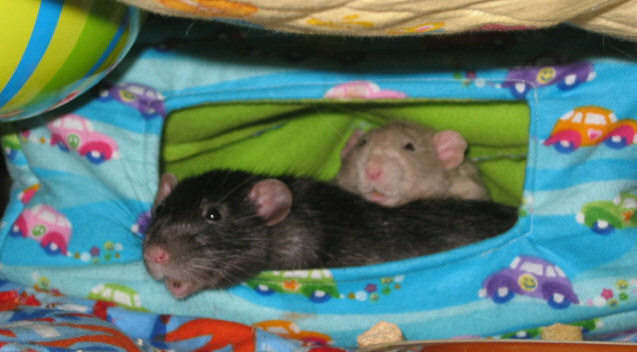 <3 Minx <3
My Minxie girl had 3 great loves, and one undesired human admirer. She was always a "rat's rat", and neither time nor age would prove to change her ways. She was a stubborn, bossy, opinionated little lady, and won my heart almost instantly.
Minxie was my "whoopsie rat". In my haste to find a companion for Verdell, who was grieving the loss of Jasper who he had only just met, we brought home "Mr. Minx", without so much as checking to ensure that he was, indeed, a "he". & so began the saga of Minx, off to an interesting start before she had even settled in. For Verdell, it was lust at first sight. For Minx, it was the beginning of a frantic few weeks and a two hour drive for an e-spay. The poor dear was so very young, and so very tiny, but the thought of allowing her to give birth in an area overrun with snake owners was simply beyond us.
The healing process was hard to watch. Minx was so tiny that we were afraid Verdell might play too rough & open the stitches, so they were separated for a few weeks. I allowed them to see each other through the cage, and it melted my heart to watch Minx frantically try to pull Verdell through the bars to her. It was love at first sight all right, and while Minx would love other rats, I still believe that she was always "Verdell's girl". They were practically inseparable, and Minx would often be found draped on top of Verdell tucked away in some hammock. He was her greatest love, and when it came time to say goodbye, my poor Minx was devastated.
Verdell's death gave us just a tiny window to say goodbye, and Minx stayed by his side until the end. After he was gone, my girl merely sat in her cage. While I tried to offer her comfort, she would have none of it from me, and when we eventually brought home Bosco, Minx was apprehensive and unwelcoming. Surely we must have been kidding... this was not "her man".
& so began her second great love story, and like so many, it was off to a rocky start. But Bosco was young and determined, and when I wasn't ready to push Minx, he took matters into his own hands. A tiny little bugger residing in the lower level of the Ferret Nation, at some point he had figured out that he could simply slide his way through the bars and out. One day I heard a horrible screeching, and walked in to see Bosco hanging out of the upper level, with Minx latched on to his head. I'm still not sure if she was attacking or trying to pull him in, but that was the end of their intro process. Minx pulled him in & immediately decided that he was ok, allowing him into her life. I do believe it was a different sort of love, as she was now the elder and this time it was "her man" who followed her around, but it was love nonetheless.
Minx's final great love story was slightly more complicated, and perhaps the one I adore her the most for. For Minx, Bug was quickly welcomed & accepted - unfortunately Bosco, my sweetest little manrat, was an absolute terror. Intro's went badly, with both myself and Bug taking a nasty bite, and Bosco was showing absolutely no signs of calming down. & so Minx was working double time, spending half of her days in the upper level with Bosco, and the other half in the lower level with Bug. When that wasn't enough, we opted for neuters, and almost lost our dear Bosco in the process. It was a horrible few weeks for all, but in the end, it was Minx who brought the two boys together. An awkward love triangle, and though I had feared that one would be the odd man out, it was a truly beautiful bond the three of them shared. My girl was getting older, and what she lacked in energy the boys made up for, and all three would often be found snuggled up somewhere together.
And so my girl Minx just kept trucking through. My dear girl had a remarkably healthy life, reaching the ripe old age of just over 3 years, and still getting up and down the levels of the cage right up until the end. She spent her days surrounded by men who loved her, and stubbornly tolerated the person she hadn't quite wanted around. & I, well, I was fortunate enough to get to be a small part of her life, to watch each chapter of her life unfold and blossom. & while I knew that my girl had lived a good life, and knew that her time must be drawing near, I still wasn't prepared for it. I'm quite certain that we never are, but my girl had been so strong for so long, I suppose it was only fitting that she got to go out with the same stubborn dignity she embraced fully throughout her years.
I can only speculate as to what finally took my dear girl from me. Our best guess is PT or a nasal polyp/mass, and at three years old surgery was simply not an option. All I know for sure is that one day she seemed fine, and when I woke up the next morning I saw her on her back, and although she righted herself, I knew something bad had happened. I pulled her out and saw blood on her mouth and nose, and later noticed a small pool of blood where I had set her on the bed. I rushed my old, beautiful, stunning little lady to the vet, with her two remaining boys by her side, and the decision was made to let her go. She had lived a wonderfully long life, and the small possibility that a medication might help her didn't cancel out the possibility that it might not... that it might buy her a little, if any time, and I could very well lose her at home, drowning in her own blood. My dear girl lived a wonderful life, and deserved to go out while she was still ahead, with her boys by her side up until the end. So I placed her back in the cage and allowed her final moments to be with the creatures who meant the most to her. I suspect they must have known, as they snuggled next to her until it was time. & then I took her in my arms and held her until she was fast asleep… my final moments with my wonderful girl.
In the end, I like to think that my sweet boys ushered her out of this world, and that dear Verdell was waiting to usher her on to the next. He was her first and greatest love story. She was always... "his girl".