Moxi & Mojo's Memorial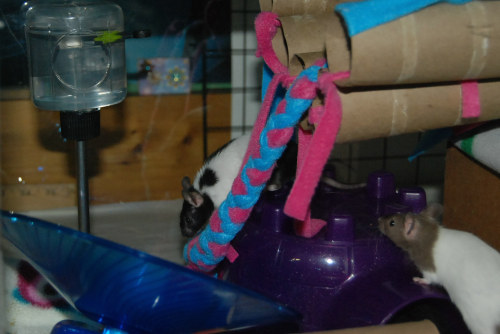 <3 Moxi & Mojo <3
Two more lovely girls have walked in and out of my life. Another well travelled pair that we found listed on Craigslist nearly 4 hours away from home. It was stated that they were "older and might not be long lived", but we had a lovely boy at home, Mari, who would welcome you dearly into his heart and I was very excited to get to meet you both.

Sadly, Moxi took a horrible downturn before we got her home and she went into a severe respiratory attack. Fearful that she would not make it through her first night, we loaded her up with antibiotics and a shot of steroid and settled in for a long night. Thankfully Moxi pulled through, though her breathing was always on edge and she remained on medication as needed to try and buy her as much time as possible.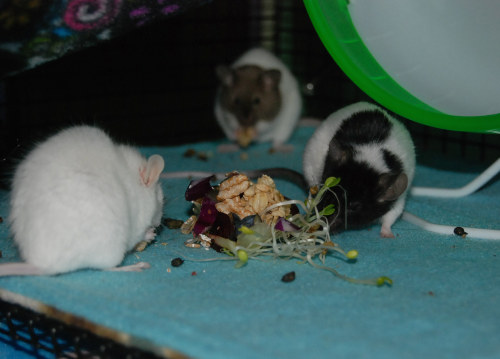 A few weeks later, Mari finally got to meet his new female companions, and took to them beautifully. These two girls were his final chapter and he loved them until the end, passing peacefully in his cage with both by his side.
Moxi and Mojo resumed their journey together, both active and seeming to enjoy life, love and treats. Eventually, however, Moxi's breathing issues got the best of her and she was helped along to her next journey. This left an opening for another rescue, Sunshine, who was swiftly neutered and quickly accepted into Mojo's life. Though their time together was short, they seemed to enjoy each other's company and were always found snuggled somewhere in the cage or playing. Sunshine's natural curiosity seemed to rub off on Mojo, and both were eager to greet me at the door and run up and down my arms.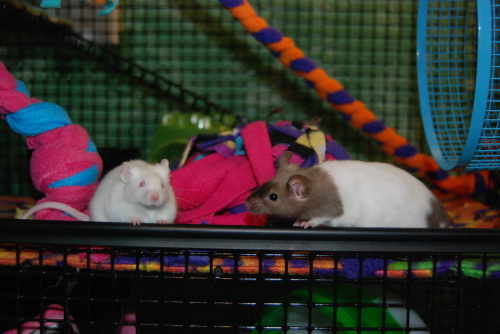 Sadly, I came home to find Mojo in unexpected respiratory distress, and the decision was made to send her back into Moxi's loving arms. These two loving girls were another shining example of just how much life and love can be found in such a tiny form, and I hope they are happily re-united wherever their journey has taken them.Thank you both for allowing me into your life, and for bringing so much joy to some very deserving boys.