Brux & Boggles 4 Rescues - Shop
livepages::jquery();?>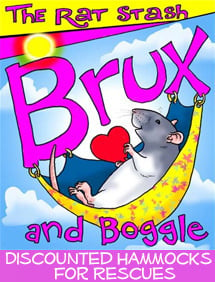 TEMPORARILY UNAVAILABLE
Minx & Bosco have selected their very favorite designs to be part of Brux & Boggles 4 Rescues, our way of helping bring warm & cozy bedding to shelter animals in need. The designs listed below are offered at a significant discount & are only available to reputable rescues.

This is our way of making it as easy as possible to spread some joy to many needy shelter residents. Please remember that these shelters rely on support from wonderful donors worldwide to continue the work that they do, & please also consider donating funds, food & supplies directly to the rescue of your choice... every dollar makes a huge difference!

All requested rescues will be verified beforehand to ensure that they are legitimate. You may specify if you want your hammocks to be made in girl fabrics, boy fabrics or both. Specific fabric requests are not available.