Zoo Crew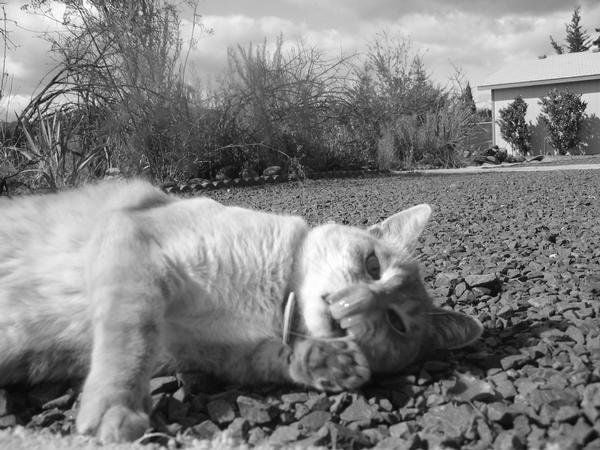 Loki
My people think I'm trouble just 'cuz my potty habits are unrefined. I personally think visible subfloor gives a home character.

Character is something I know a lot about. I spent my kitten years in a graveyard until someone took me to a shelter. I'm missing a back foot. And half of a back leg. I also have a chicken allergy so my people buy me "good food", even though I'd rather have the other stuff.

Momma says I'm "special", though she insists it's not the compliment I think it is. They insist that they almost gave me to a barn home once, but I know they really just went to get me a friend.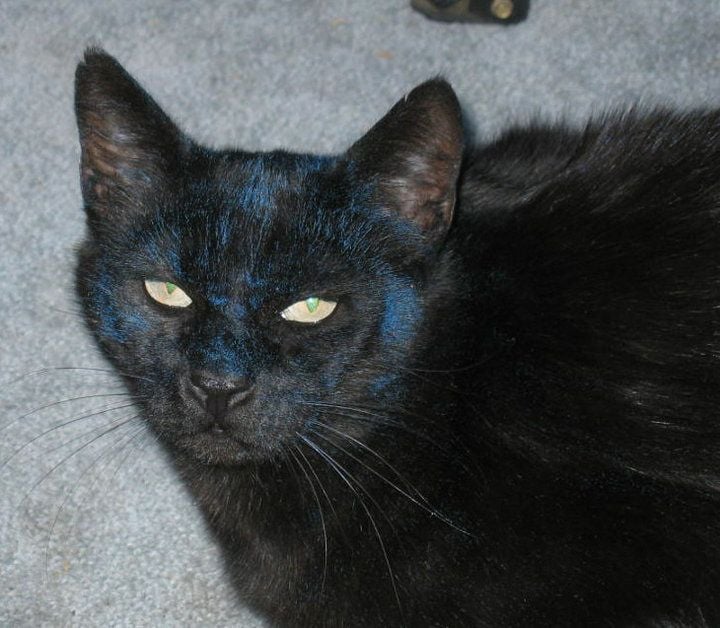 Onyx
I'm an outgoing girl who grew up on a farm with other rescues... cats, dogs, peacocks even! Some people came hoping to leave a "pee kitty" at the farm, but ended up bringing me home instead. As you can see from my photo, I too can find ways to get into trouble, but the pee kitty has set the expectations pretty low.

I'm nothing if not adapable, and quite personable too, so I handled the move easily. I've been here many wonderful years and am starting to require some additional care, but it doesn't slow me down. My people say I have eyesight issues but I still play well in our fenced-in yard. I also have a puffer for my asthma and get fluids weekly for dehydration, but momma knows that's just extra time for us to bond.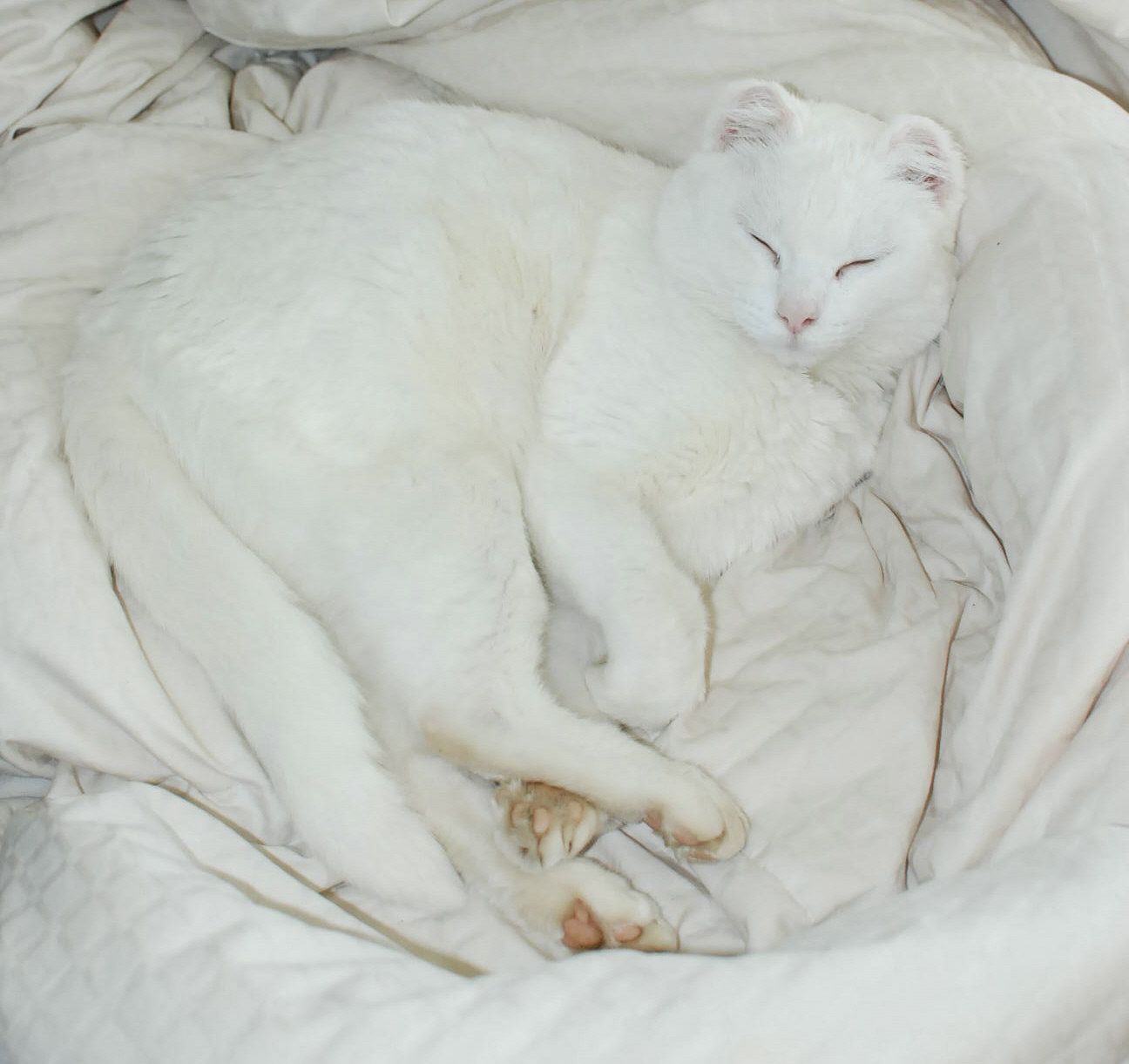 Sheba
I was one of mom's surprise "surprise" birthday gifts. She thought she was buying a used blender, and found me as well. A kind lady was feeding me and thought I had ear mange. Mom thought it was much worse and got me to a shelter for help.
The vet said I had the worst ear cancer he had seen for a cat so young. Mom was supposed to foster me, but the shelter deemed me "unadoptable" and was going to euthanize me if she couldn't keep me. By then I had already worked my charm, so I got healthy "trimmed" ears, and a brand new home.

Momma says I have to protect my fair skin, but she does let me play in the fenced in yard mornings and evenings. She says I make things really easy for her, since I'm the only kitty who can't figure out the cat doors.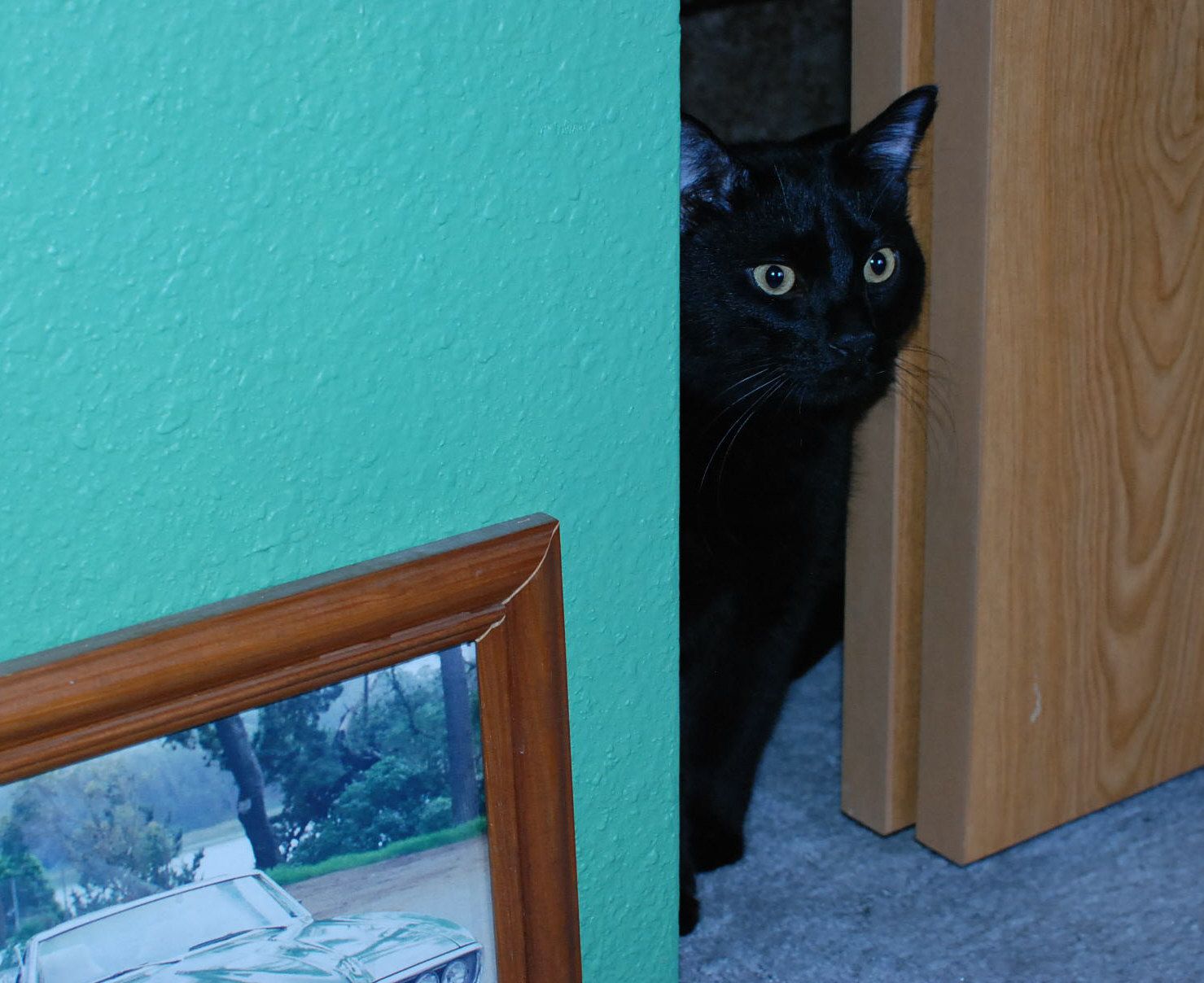 Bagerra
My people said no more kitties, but I'm no ordinary guy. When my person walked into the shelter, I made it clear that he was the one for me. As he says... we have a bond.

The female of the house I could do without, but that's just how much I love "my guy".
My guy thinks the world of me. He doesn't mind me ambushing kitties in the litter box, or when I push dishes off the counters just for fun. He knows that I can do no wrong, because I'm the very best cat in the whole wide world. I actually think I should be the only one, but I'm working on that...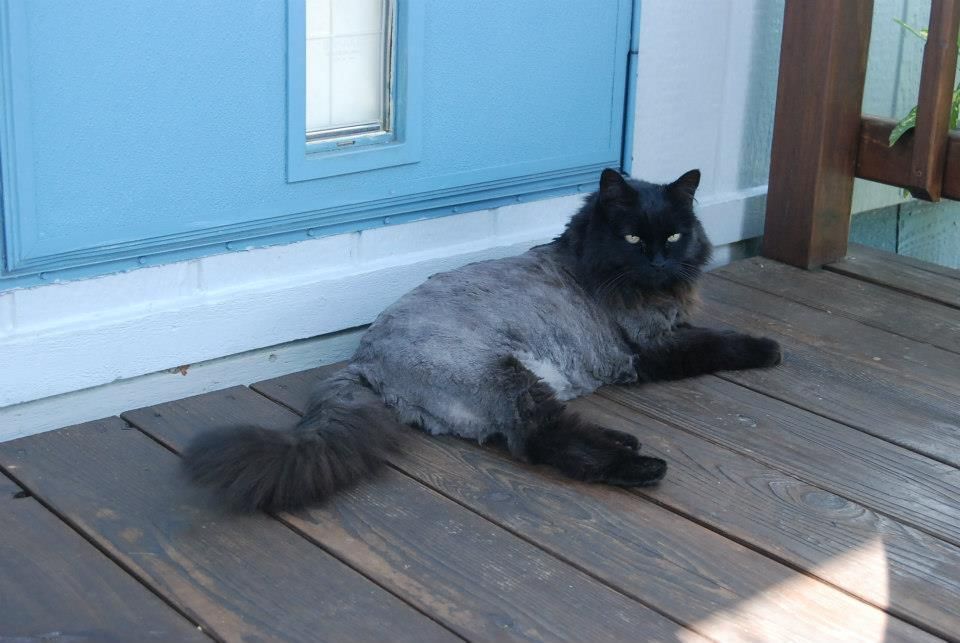 Jinx
I ended up on the shelter's "ten day" euthanasia list... it was only one bite. My people were volunteers and knew I had been wrongly accused. I was simply a scared girl and deserved another chance. Personally, I think it was the express route into a spiffy new household, but mom insists it was a stupid gamble.
In any case, I am now the fifth spectacular addition to their "two cat only" household. & I'm still nippy and temperamental, but it's payback for these awful haircuts.

Mom says I wouldn't need the haircuts if I would simply let her brush me... and so the battle continues on.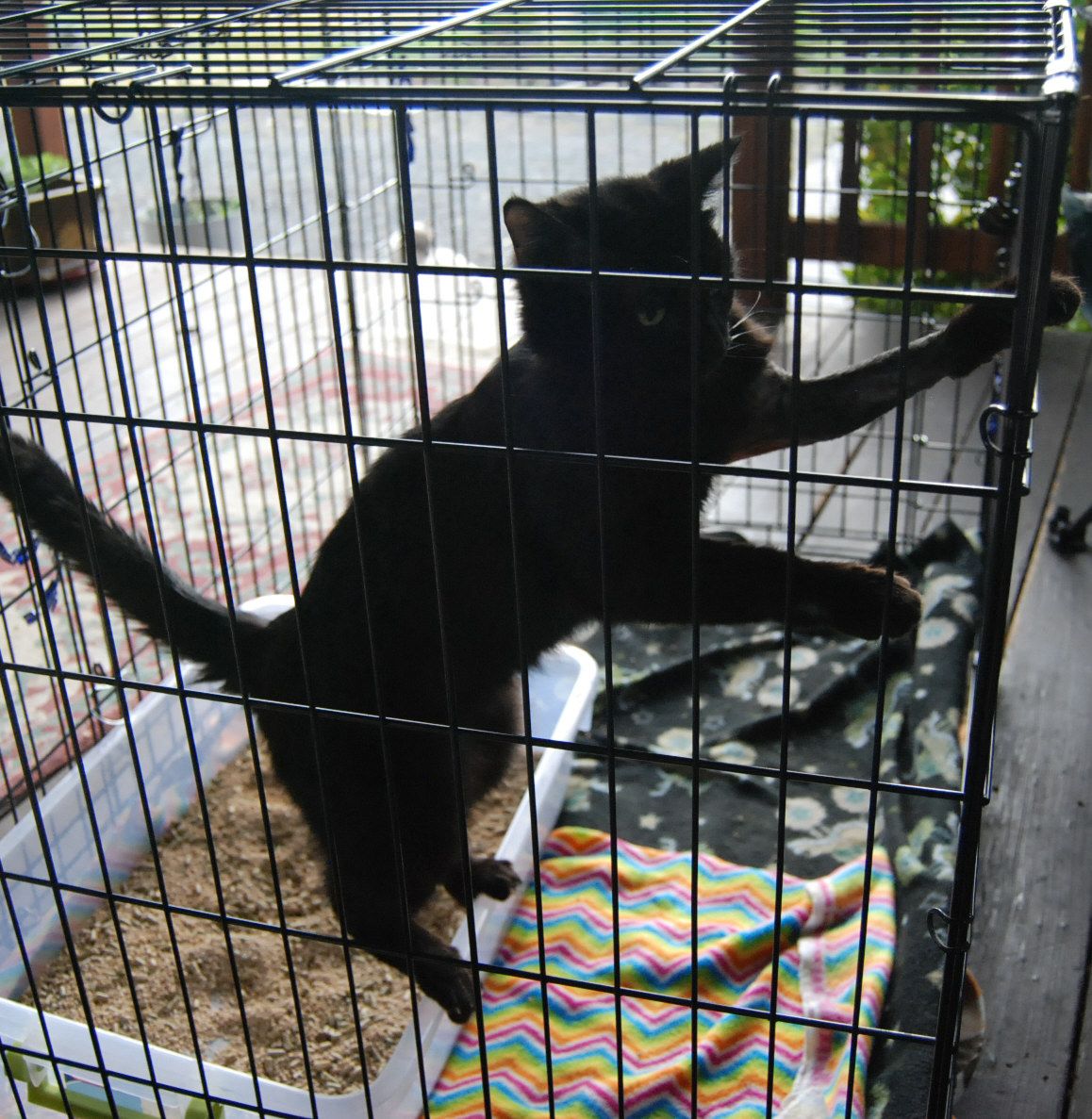 Felix
I'm number six in this "two cat only" household. My people said "no more" but I'm persistent... I knew this was the place for me. Five other cats can't be wrong.

Oh, initially they resisted, but I kept coming back. At meal times... I was there. On cold, winter evenings, you betcha... I was there. They began tucking a blanket over me but still they held strong... until one day I showed up with a nasty fight wound on my arm. They moved my neuter date forward so my abscess could be taken care of, and I got upgraded to a kennel in the living room for a few weeks while I healed. When my momma began sleeping with me in the tiny dog kennel, I knew I was in.

I'm still quite young and still quite a handful. I'm the only one talented enough to break out of the cat fence, much to my mom's dismay. But I'm a free spirited guy who can't be contained, and I love visiting the neighbors too much to stop yet. Mom says one day she'll fatten me up enough to contain me, but I think she has a long wait.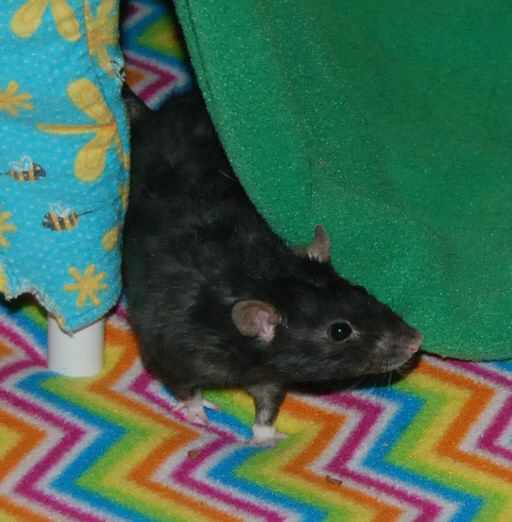 Templeton
I spent my younger days with a loving girl who let me run all around her room. When she had less time for me they searched for another home, and while the change was scary I've met many wonderful friends since then. It's hard because rats don't have very long lifespans, but we certainly make the most of every day and every new friend.

Mom says that I'm skittish, but it's ok because I have a new pal and he's skittish too. We are braver together, even though we still get spooked quite often. We love to spend our days cuddling together, and look forward to night time when our person comes in with snacks to share. Me and Chewie also think there are some other critters nearby, but we can never seem to find them.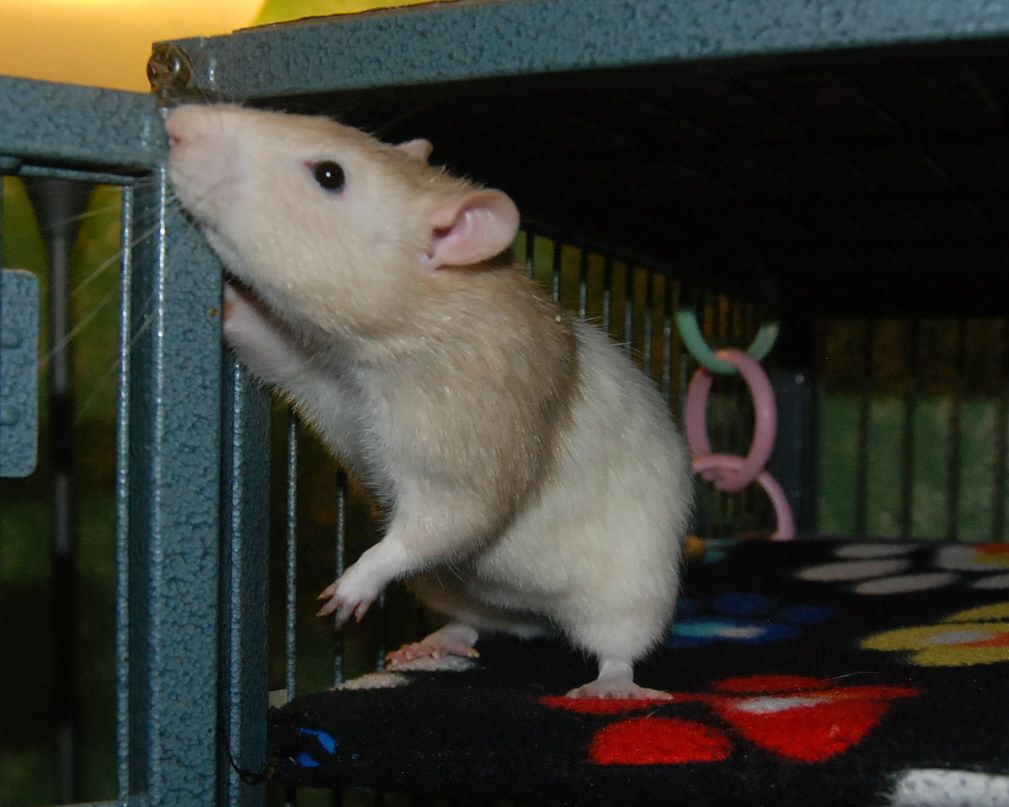 Chewie
I was part of a very large hoarding situation in California. A wonderful rescue saved me and my many companions, and I was so special that someone drove me all the way to Oregon. The shelter warned my mom that I was "bitey", and I'm still somewhat scared and nippy, but my mother loves me anyway. She thinks it's because my eyes are bad and she knows how much I love Temple, so I can do no wrong.

I'm actually a wonderful boy and Temple is teaching me that mommy might not be so bad, after all. She brings us treats and lets us free roam on the bed all day, and she makes my meds taste yummy anytime I'm feeling sneezy.